Movie Reviews: Pegasus Market
---
Pegasus Market (쌉니다 천리마마트) is a 2019 South Korean television series based on Kim Gyu-sam's webtoon of the same name, starring Kim Byung-chul and Lee Dong-hwi. It aired on tvN every Friday at 23:00 (KST) from September 20 to December 6, 2019.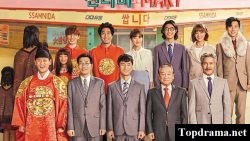 "Cheap Cheonlima Mart" tells the story of employees at a falling-behind store where the staff is king, rather than the customer. While the manager tries to revive the mart, they're up against the "human bulldozer" boss that aims to ruin the store.
Moon Seok Gu is a foolish shopkeeper who wants to make Cheonlima Mart the No. 1 retailer store. Although he seems a bit dim-witted, he dreams of becoming an employee at the headquarters of Daemae Group by reviving the mart.
Jung Bok Dong is a genius boss who tries to take revenge on Daema Group by destroying Cheonlima Mart. He was originally a board director at Daema Group and trusted by the CEO for his clear insight and fastidious personality, but he was suddenly demoted to being the boss of Cheonlima Mart. He tries to drive Cheonlima Mart to the ground by hiring people who have failed at life and are unlikely to be hired by anyone else.
Tags:
Cheap Cheonlima Mart
,
Cheap Cheonrima Mart
,
Cheap Chollima Mart
,
Pegasus Market
,
Ssabnida Cheonrimamateu
,
쌉니다 천리마마트