Movie Reviews: Secret Boutique
---
Secret Boutique (시크릿 부티크) is a 2019 South Korean television series starring Kim Sun-a, Chang Mi-hee, Park Hee-von, Go Min-si, Kim Jae-young and Kim Tae-hoon. It aired on SBS TV from September 18 to November 28, 2019.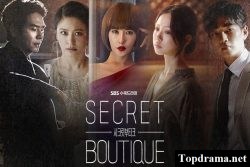 This drama is about the power and revenge surrounding the international city development gate and the stories of women playing power games for survival.
Do Young lived and worked in a public bathhouse after leaving the orphanage. Yeo Ok, the head of Deo Group, finds favor in her eyes of Do Young, and with Yeo Ok's support, Do Young changes her name to Jenny Jang and gets to run a high-end fashion boutique. Also, she becomes a central and powerful figure in the political and business circles as she secretly solves problems for the upper classes. Jenny's ultimate goal is to become the queen of the Deo family using the international city development project. On the other hand, Yeo Ok plans to take advantage of Jenny and abandon her as soon as she succeeds in making Deo Group one of the top 10 corporates in Korea through the international city development project. To do so, Yeo Ok shouldn't make Jenny notice her scheme.
Tags:
Secret Boutique
,
Sikeuris Butikeu
,
시크릿 부티크